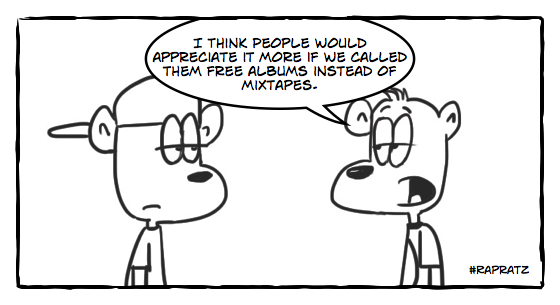 I was in the studio with an artist over the weekend and I asked if the project he was recording was going to be released as a mixtape. He replied, "I don't spend money, to make no money."  He then went on to talk about how much it was costing him to record, mix, and eventually promote the project. This is going to be he first release by the way.
There are a few hip hop artists that still hold the belief that these returns on investments have to be immediate, ignoring the reality that there are many hip hop artists today, touring and building careers off of the release of free mixtapes. Some of them have never released an official album. This is no different than a lot of products that are mostly distributed digitally. Your music is like an app. How many of those apps did you pay for that sit on your smartphone?
Those app designers invested time and money too, but understand that they have to make something useful and incredible to get you to even take the time to download it for free. And on top of that, continue to update it for many who bitch about it's shortcomings. In the end, after years of spreading mostly by word of mouth, and hundreds of thousands of downloads, maybe then they can win you over enough to purchase the pro version. Even better, perhaps they can get funding from some venture capitalist or get a buyout offer from the folks at Facebook.
It's "try before you buy", and if you're good, people take notice and let you know. That's what I'm going to enjoy about Indie Wednesdays here. When you get genuine love from fellow creatives, you're doing something right. That's a feat, because almost everybody is only concerned with their own shit. If you're not getting the response you want, go back and tweak the product. Keep the app updated or people will gravitate to a better one. And everybody knows when you're trying game the system. We know when product is underserving of the view count number and comments. You're better off spending the time on perfecting your craft.
Have you read these yet?